Welcome to the website for The Rialto – the UK's leading independent poetry magazine and award-winning poetry publisher.
You can find out about our work here, buy magazines and books, or subscribe to the magazine. There are also exclusive poems, articles and bits and pieces that aren't in the magazine.
So take a look and come back soon.
"The only poetry magazine I can think of that truly gives poetry the time and space it deserves."
Simon Armitage
Issue 77 is out now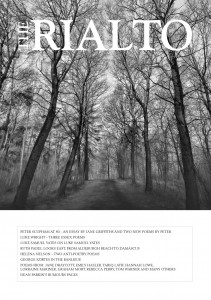 Peter Scupham at 80 – An essay by Jane Griffiths and Two New Poems By Peter
Luke Wright – Three Essex Poems
Luke Samuel Yates on Luke Samuel Yates
Ruth Padel looks east, from Aldeburgh beach to Damascus
Helena Nelson – two anti-poetry Poems
George Szirtes in the Banlieue
Poems from Jane Draycott, Emily Hasler, Tariq Latif, Hannah Lowe,
Lorraine Mariner, Graham Mort, Rebecca Perry, Tom Warner and many Others
Dean Parkin's rumours pages
Cover photo: Battle Wood by Nick Stone
BUY A COPY HERE
____________________________________________________________
Luke Yates Pamphlet now available
The pair of scissors that could cut anything
"I'm always listening out for a new poet who can take the deceptively effortless, witty yet ultimately serious chops of the New York School, make it work for this generation and bring the whole thing in to land just outside a British city, losing nothing in transit. And God it's been worth the wait. This is a poetry of exquisite timing, with some of the most satisfying last lines I've ever read. Yates can take an everyday domestic detail and make it sparkle with the mystery of a Raedecker painting." – Luke Kennard
____________________________________________________________
Issue 76 is out now
The Rialto/RSPB Competition Winning Poems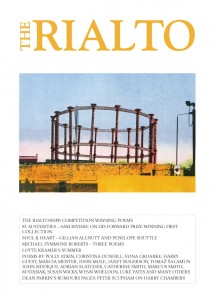 81 Austerities – Sam Riviere on his Forward Prize winning First Collection
Soul & Heart – Gillian Allnutt and Penelope Shuttle
Michael Symmons Roberts – Three Poems
Lotte Kramer's Summer
Poems by Polly Atkin, Christina Dunhill, Vona Groarke, Harry Guest,
Marcia Menter, John Mole, Janet Rogerson, John Siddique, Adrian Slatcher, Catherine Smith, Marcus Smith, M Stasiak, Susan Wicks, Wynn Wheldon, Luke Yates and many others
Dean Parkin's Rumours pages.
Cover Image: Tiara of Pancras Boulevard by Clare Johnson.
You can order is here.
____________________________________________________________
Issue 75 still copies available
Sasha Dugdale – 'Woman Cutting Apples', 'Richard Woodman'
Matthew Sweeney – 'The Piper's Cave, 'Nil', 'Sausages'
RA McRoy – 'Guppy Primer'
Emily Berry – Two New Poems: Kim Moore – Three New Poems
Alison Winch in Rehab, Judith Kazantzis On The Beach Of Darlings
Janet Rogerson On Becoming A Poet In Less Than Five Years
Ramona Herdman At Home With Dragons: More Golf With Oliver Comins
Dean Parkin's Rumours, Plus Poems From Charlotte Gann, Pete Hoida, Joel Lane, Hannah Lowe, Rennie Parker, Patricia Pogson And Many Others.
Cover by Peter Green.
____________________________________________________________
The Hungry Ghost Festival by Jen Campbell – Out now!
On the 15th night of the seventh lunar month, the boundaries between the living and the dead break down, and the dead visit the earth looking for food and entertainment.
Jen Campbell's festival celebrates the presence of the past, in this case childhood and adolescence in the North East, as it floats through the present adult consciousness.
"Jen Campbell's The Hungry Ghost Festival is a magical debut. Her charged poems of a northern childhood in South Shields and Cleadon Hills; of family, sex and other rites of passage are fresh and compelling – told with a canny eye for detail and a gorgeous turn of phrase. This is an arresting collection from a writer fully in command of an unusual and significant voice." Anna Woodford, poet
"These are poems full of wonder and surprise. Jen Campbell tells us stories about growing up in the changing North East; reimagining love, childhood and home in strange and magical ways." Liz Berry, poet

"This is already one of my favourite collections! In this witty, wild and imaginative collection, Jen Campbell opens the doors wide and takes you through to her own fierce world where nothing goes unquestioned. Childhood memories such as being told about 'oral sex on the 525 home', kissing TV screens and praying to the Angel of the North transform themselves, selkie-like, to more adult themes, the internet as 'a virus on wheels'. A mixture of strong filmic images and rich language mean that the poems always keep their sense of wonder and strength."  Sarah Salway, poet

Cover by Laura Barnard.
____________________________________________________________
Buying from this website
You can use your credit or debit card to buy from this website using PayPal – a safe and easy way to pay online.
Buy The Rialto magazine here
Subscribe to The Rialto magazine
Buy The Rialto's Bridge Pamphlets here
Buy First Collections and other books here
____________________________________________________________
New Bridge Pamphlet A Bad Influence Girl by Janet Rogerson
"Rogerson keeps the tone light as the material darkens, telling stories which sting and convince in poems whose timing is bewilderingly confident and assured."
John Mcauliffe
"She shows us a different way of looking at the world and we accompany her acute poetic voice zigzagging through these surprising and delightful poems, not one statement a linear one."
Alicia Stubbersfield, poet and teacher

Cover by Phil Cooper.
Buy it here
____________________________________________________________
Older Issues
You can buy older back issues of The Rialto from Inpress.