Welcome to the website for The Rialto – the UK's leading independent poetry magazine and award-winning poetry publisher.
You can find out about our work here, buy magazines and books, or subscribe to the magazine. There are also exclusive poems, articles and bits and pieces that aren't in the magazine.
So take a look and come back soon.
"The only poetry magazine I can think of that truly gives poetry the time and space it deserves."
Simon Armitage
Issue 78 is out now
John Clare and the Gypsy – David Morley
Two New Poems by Les Murray
Alan Brownjohn – A Bottle and The Lights
Sixteen Bears – Chrissy Williams on Chrissy Williams
John F Deane's Mercian Hymn, Liz Berry's The Assumption
Hamsters, Dodos, Apples, Flash Mob Flamenco – Sixty-one Poems by Fifty Poets
Dean Parkin's Rumours, Michael Mackmin on Seamus Heaney
Cover image: Dee Nickerson
BUY A COPY HERE
Luke Samuel Yates Pamphlet is still available
The pair of scissors that could cut anything
"I'm always listening out for a new poet who can take the deceptively effortless, witty yet ultimately serious chops of the New York School, make it work for this generation and bring the whole thing in to land just outside a British city, losing nothing in transit. And God it's been worth the wait. This is a poetry of exquisite timing, with some of the most satisfying last lines I've ever read. Yates can take an everyday domestic detail and make it sparkle with the mystery of a Raedecker painting." – Luke Kennard
____________________________________________________________
Issue 77 is still available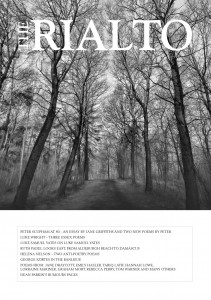 Peter Scupham at 80 – An essay by Jane Griffiths and Two New Poems By Peter
Luke Wright – Three Essex Poems
Luke Samuel Yates on Luke Samuel Yates
Ruth Padel looks east, from Aldeburgh beach to Damascus
Helena Nelson – two anti-poetry Poems
George Szirtes in the Banlieue
Poems from Jane Draycott, Emily Hasler, Tariq Latif, Hannah Lowe,
Lorraine Mariner, Graham Mort, Rebecca Perry, Tom Warner and many Others
Dean Parkin's rumours pages
Cover photo: Battle Wood by Nick Stone
BUY A COPY HERE
____________________________________________________________
Buying from this website
You can use your credit or debit card to buy from this website using PayPal – a safe and easy way to pay online.
Buy The Rialto magazine here
Subscribe to The Rialto magazine
Buy The Rialto's Bridge Pamphlets here
Buy First Collections and other books here
You can buy older back issues of The Rialto from Inpress.