THE RIALTO TEAM
Who we are and what we all do.
The Rialto consists of a team of permanent staff, and a network of supporters, including  those who have undertaken the Editorial Development Programme. All assist in the running of the magazine and the publishing of the books and pamphlets. There is also an advisory board which consists of specialists and members of staff that meet regularly to discuss both the the day-to-day aspects of The Rialto and any special considerations and project work. The Permanent staff consist of:
Michael Mackmin, the Editor has been at the very centre of The Rialto since it started in Jurnet's Bar at Wensum Lodge in 1984, he continues to read the submissions and edit the content for all the books and the magazine.
Fiona Moore who joined the team at the end of her time on the Editor Development Programme in 2014 and has ably assisted Michael with editing both the magazine and with the decision making that surrounds it.
Nick Stone who has provided the art and design for the books and magazines since 1989. Initially as a paste-up artist, but since 2002 has been art director and general purpose pragmatist.
Jo Leverett recently joined the team and provides marketing, development and research as well as guiding us through the still, dark waters of funding bids.
Michael, Nick and John Wakeman are also trustees of The Rialto.
Advocates for The Rialto are Simon Armitage, Carol Ann Duffy, Sir Andrew Motion, Jo Shapcott
"Poetry gives us essential human pleasures and rewards, not least because it allows us to discover richer versions of ourselves. The Rialto, being reliably full of excellent new work, is an excellent place to find these pleasures and rewards."
"The Rialto is simply the best."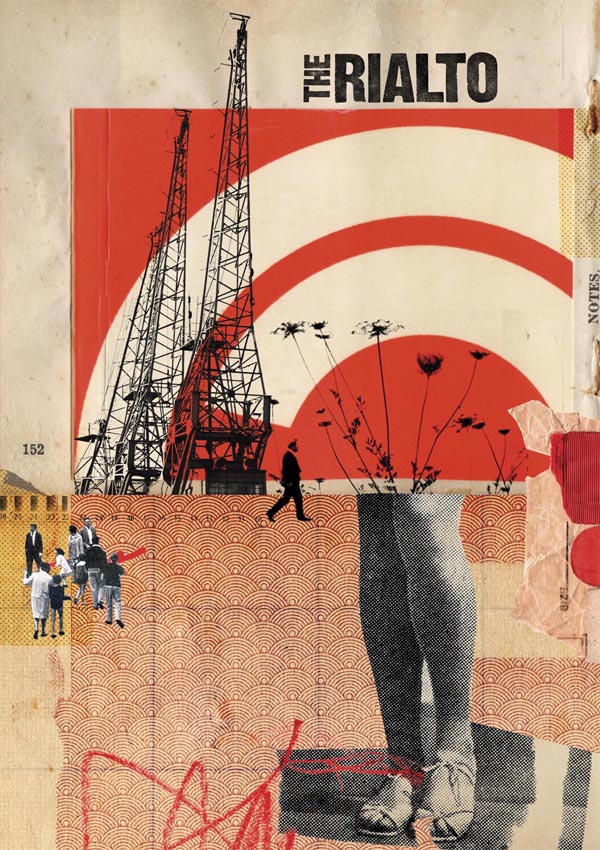 MICHAEL MACKMIN
Editor
When Mike isn't reading submissions or editing the magazine you can usually find him standing in a muddy field near the North-Norfolk coast, birdwatching. His published collections are The Play of Rainbow, Twenty-Three Poems, and from there to here. In his spare spare time he is also a full-time Gestalt Counsellor.
HOLLY HOPKINS
Assistant Editor (EDP 2015)
Holly Hopkins lives and works in London. Her debut pamphlet, Soon Every House Will Have One, won the 2014 Poetry Business Pamphlet Competition and Poetry Book Society Pamphlet Choice. Her poems have been featured in magazines and anthologies including The Times Literary Supplement, The Poetry Review, The North, Poetry Wales and Dear World And Everyone In It: New Poetry In the UK (Bloodaxe). Holly received an Eric Gregory Award in 2011.
WILL HARRIS
Assistant Editor (EDP 2016)

Will Harris was born and lives in London. He has worked in schools, led workshops at the Southbank Centre and taught for The Poetry School. He co-edits 13 Pages and organises The Poetry Inquisition, is part of the editorial team behind Swimmers and a fellow of The Complete Works III. In 2016, he was featured in ES Magazine as part of the "new guard" of London poets. He is published in the Bloodaxe anthology Ten: Poets of the New Generation, and his debut pamphlet is All this is implied (HappenStance, 2017).
JO LEVERETT

Marketing, communications and development

Jo is a Suffolk based Arts Marketeer and Event Manager with a wide ranging client base. Marketing and Festival Manager of the Aldeburgh Poetry Festival for 3 years, Jo is an expert at getting a large number of poets from one place to another, on time and in one piece.
CLAIRE KIDMAN
Finance

Claire comes from a fine art background and for several years ran a business selling her handmade cards in shops such as The Fitzwilliam Museum, Liberty, Heals and Harrods. She has also worked for arts organisations for many years, mainly in finance roles. Claire volunteers for community station, Future Radio, recording interviews and bulletins for 'Platform,' its arts programme. She also writes, mainly co-writing songs for her band, Stromm. Claire also sings in a contemporary choir, an a cappella group and another band. Claire has made Norwich her home since graduating from Norwich School of Art in 1989
RISHI DASTIDAR
Assistant Editor (EDP 2015)
Rishi Dastidar's poetry has been published by the Financial Times, Tate Modern and the Southbank Centre amongst many others, and was most recently in Ten: The New Wave (Bloodaxe, 2014). He works in advertising and brand strategy, serves as a trustee of the writing development agency Spread The Word and tweets far more than is good for him.
DEGNA STONE
Assistant Editor (EDP 2016)
Originally from the Midlands, Degna Stone is a poet and producer based in Gateshead. She is co-founder and Managing Editor of Butcher's Dog poetry magazine and is currently poet-in-residence at Berwick Library (part of the Northern Poetry Library project). She received a Northern Writers' Award in 2015 and holds an MA in Creative Writing from Newcastle University. She has appeared at StAnza, Durham Book Festival, Rally and Broad and on BBC Radio 3s The Verb. (Photo: Phil Punton)
NICK STONE
Art Director, Board Member and Trustee

Nick is responsible for the The Rialto's branding and artwork – both ink on paper and pixels on screen. He works in design and communications and also saunters about in the weird fractal landscape of Social Media. When he's not doing that he takes photographs and writes about it. He's been involved since 1989. The Rialto is still one of his favourite things.
DEAN PARKIN
Contributor and columnist

Dean Parkin was born in 1969 and left school at the age of sixteen to work at a printer's and then in a bookshop where he published local history books. He subsequently worked for The Poetry Trust for fifteen years, ending up as Creative Director. He has published four pamphlets and his first full collection, The Swan Machine, was recently published by The Rialto. He now works as a freelance writer and workshop leader, running sessions for anyone between the age of 5 and 100+. He's probably the only poet to appear on BBC1 reading a poem on the loo.
COLIN HUGHES
Advisory Board

Colin grew up in suburban Reading, went to Oxford to read English and trained as a journalist in Sheffield and Barnsley when the steel and coal industries were being obliterated.  He joined The Times, helped launch The Independent as political correspondent, ended up as its managing and deputy editor, moved to The Guardian to run their professional networks as a board member, and is now managing director of Collins Learning, the education and reference division of HarperCollins.  He is chair of Middlesex University, an Arsenal fan, disoriented sailor, keen runner, poor pianist, poorer birdwatcher, poetic enthusiast and besotted father.
ABIGAIL PARRY
Assistant Editor (EDP 2014)
Abigail Parry is really just an alleycat that wandered into The Rialto's office and sat in front of a laptop. No one has shooed her away just yet. She holds a PhD in 'play' in contemporary poetry, and is currently Writer in Residence at the National Videogames Arcade, where she is developing a series of poem-game hybrids. She received an Eric Gregory Award in 2010.
EDWARD DOEGAR
Assistant Editor (EDP 2016)

Edward Doegar was born in Surrey, grew up in Hull and now lives in London. His poems, translations and reviews have appeared in various magazines including Poetry Review, Poetry London, Prac Crit and Poetry Ireland Review. In 2014 he was one of the participants in the Poetry Trust's Aldeburgh Eight programme. He is a Complete Works fellow and six of his poems were featured in the Bloodaxe anthology 'Ten: The New Wave'. Writing in the Huffington Post, Robert Peake selected him as one of the 5 British poets to watch in 2016. He works at the Poetry Society.
MATTHEW HOWARD
Advisory Board Chair and Trustee

Matt Howard lives in Norwich, where he works for the RSPB. Matt is also a steering group member of New Networks for Nature, an eco-organisation that asserts the central importance of landscape and nature in our cultural life. His debut pamphlet, The Organ Box, was published by Eyewear in December 2014.
ESTHER MORGAN
Advisory Board

Esther Morgan's four poetry collections are published by Bloodaxe Books. Her third, Grace, was shortlisted for the 2011 T. S. Eliot Prize. Born in 1970, she grew up in rural Worcestershire where she wandered off a lot into the fields and talked to the cows. She began writing poetry seriously during a stint as a volunteer at the Wordsworth Trust in Grasmere before arriving in Norwich to do an MA in Creative Writing at the University of East Anglia. Since then she's been involved in the poetry world as an editor and teacher. She currently lives on the Norfolk/Suffolk border and works as Communications Manager for Norfolk Museums Service.