Over the last few weeks I've found myself using the phrase 'think like a poet' a lot, especially as the final idea I want to leave people with, at the end of beginning to write workshops. It sounds sufficiently exhortatory (especially if I'm windmilling my arms while saying it) while at the same time a little gnomic: wise, but perhaps also confusing in a good, ponder-more-on-it kinda way.
What do I think I mean by it? The idea that being a poet, and writing poetry, is primarily a way of thinking about the world, thinking your way through the world, a philosophy if you will – in the same way, for example, that people discover economics as a way of seeing the world (not quite an ideology, mind) that suddenly starts to make sense of it.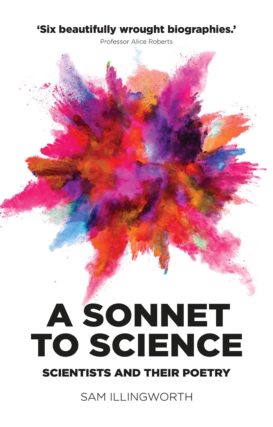 Perhaps surprising to you – it was surprising to me – is finding out that thinking like a poet was also one of the intellectual tools used by six scientists whilst in pursuit of their discoveries. That's the premise underlying Sam Illingworth's A Sonnet to Science: Scientists and their Poetry (Manchester University Press). Illingworth, a poet as well as a lecturer in science communication at Manchester Metropolitan University, sets out to try and answer the question 'How has poetry expanded scientists' understanding of the world in which we live?'
Which is not the most straightforward of investigations, not least the question of why they might also be penning poems in between carrying out experiments; as Illingworth puts it, "Did writing poetry help them to make better sense of the world in which they lived? Did they consider themselves to be talented polymaths? Was it purely a private pursuit of pleasure?"
Illingworth surveys of the careers of Humphrey Davy, Ada Lovelace, James Clerk Maxwell, Ronald Ross, Miroslav Holub and Rebecca Elson, and through a combination of close reading of their poetry and an overview of their research, breakthroughs and achievements, attempts to show if and how poetry influenced their science. (Illingworth notes in his introduction that most investigations into the links between science and poetry examine how the former has influenced the latter rather than the other way round.)
Take Davy for example, who Illingworth argues had a credible chance of becoming a poet, and whose poetic skills were rated highly enough by Wordsworth to ask him to proofread the second edition of the Lyrical Ballads. Davy used verse to record the effects of inhaling nitrous oxide, both as a way of judging how the gas affected his linguistic skills, and also to see whether the high could be described imaginatively:
Not in the ideal dreams of wild desire
Have I behld a rapture wakening form
My bosom burns with no hallowed fire
Yet is my cheek with rosy blushes warm
Illingworth calls this a piece of scientific data, a thought jarring at first, but fair on reflection, the equivalent of a more worked up version of a prose fragment of observation, perhaps.
Some of the value of these biographies comes from the revealing of poetic hinterlands previously glossed over or underplayed in the lives of these scientists. I certainly had no idea that James Clerk Maxwell, who formulated the theory of electromagnetic radiation, wrote poetry as a way of working out his frustrations when his experiments or scientific career was faltering; it's also moving to see that Ada Lovelace spent some time wrestling with her identity as a mathematician or poet, in particular writing a striking ode to Florence Nightingale.
You'll note that I haven't mentioned the quality of the poetry; not that A Sonnet to Science goes as far as to try and claim the earlier of his scientists as first rank writers. But it is clear that there is an obvious and genuine step up in what the poems achieve when Illingworth discusses Holub and Elson. His chapter on the former is a useful reminder of what he sacrificed under communist rule; Illingworth is particularly good at showing how Holub's style shifted between a directness of language and a surreal approach in response to the twists of repression in Czechoslovakia, while also tracing his ambivalence about whether he was going to be remembered as a celebrated scientist or celebrated poet.
Elson's story is perhaps the saddest, a writing and an astronomical career cut short by her death at the age of 39 from non-Hodgkin lymphoma. Illingworth suggests that, of all his subjects, she was the one for whom the personas of scientist and poet were indivisible – "they were all part of her one life… To Elson, science was poetry and poetry was science; they were not mutually exclusive entities but rather small facets of existence that helped to fill in the bigger picture of the universe and her place within it."
Illingworth also notes that The Rialto was one of the places that spotted her poetic talent early on. Here is 'Aberration', from issue 22, Spring 1992:
ABERRATION
(after the Hubble Telescope)
The way they tell it
All the stars have wings
The sky so full of wings
There is no sky, and just
For a moment you forget
The error and the crimped
Paths of light
And you see it
The immense migration
And you hear the rush
The beating
As Michael says, "Her poems were deceptively slight looking but worked such a lot of feeling into them."
Feelings, poetry and science. There's a joined up approach to thinking about the world in those three big ideas… somewhere.
With thanks to Michael Mackmin for delving into the archives.