When commissioning pieces for the original Bowieoke event, I decided to give the other poets their pick of Bowie albums to write on, and to choose my own from among those left. It came as a welcome surprise that 1972's The Rise and Fall of Ziggy Stardust and the Spiders from Mars remained unchosen. Of all Bowie's albums and aesthetics, Ziggy is perhaps his best known and most celebrated. Speaking for myself, when I picture Bowie, I picture Ziggy – slight and fiery in Kansai Yamamoto's 'Woodland Creatures' red leather jumpsuit, with its white rabbits and ringlets of smoke.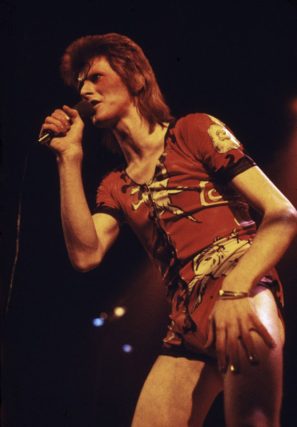 I think that many regard Ziggy Stardust now as a bit of a Glam Rock artefact, displaying camp and progressive optimism of a kind that was undermined even by Bowie's own later work. But one of the things I find most affecting about this album is that it doesn't have its head entirely in the clouds – there is always a tension between a dream world of acceptance and freedom from convention, and a real world in which dreamers struggle. Rock n' Roll Suicide is an obvious example, but even Starman advertises the unattainability of its ideals, embodying them in a figure which is neither human nor understood by humans ('he'd blow our minds'). Lady Stardust, my favourite track on the album, begins by describing the bullying of a man who defies gender conventions: 'people stared at the makeup on his face / laughed at his long black hair / his animal grace'. This, of course, was the reality Bowie knew – in his first BBC interview with Cliff Mitchelmore in 1964, he spoke as founder of the 'Society for the Prevention of Cruelty to Long-Haired Men'. When I wrote the poem, I wanted to depict Lady Stardust as I feel the song does – a figure of strange, androgynous beauty, seemingly unconstrained by social pressures, as viewed by those who find themselves very much constrained; whose wishing for her type of existence makes them misfits. The repeated 'it's alright' is a needed reassurance. Even so many years later, for many of us (and I guess I include myself, the awkward speaker of the poem), Ziggy's ideals don't feel quite within reach – we're not cool enough, brave enough, free enough of the pressure to belong to one category or another. We still have to tell ourselves 'it's alright' to go against a certain grain. I hope that this is what comes across in the poem.
Alex Bell
You can buy the pamphlet here.
Subscribing to The Rialto
If you're already a subscriber then many thanks for the support as we cannot survive without you!
If you don't yet subscribe, or you have let this lapse, please do consider it carefully. It's just £24.00 for an annual UK subscription (£19 for people living in the UK on a low income).  For everyone overseas it's £36 (£24 plus £12 shipping charge).