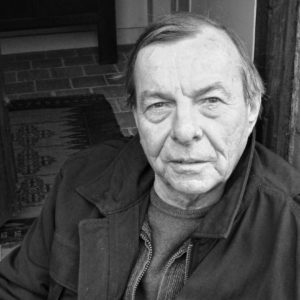 The Cley Little Festival of Poetry, in my experience, circles around the village of Cley but doesn't settle there, ranging between Sheringham and Wiveton along the coast road. They very generously invite me to suggest themes, poets etc., from time to time and this year asked me to read and to bring two other poets who I thought well of. I suggest Hannah Lowe and Jack Underwood and we are all booked in for two events and as many of the others as we want to join in.
Saturday morning finds me driving down the hill from Salthouse Heath towards the marshes and the sea. Plenty of sky in view, clouds rolling about, but all quite mild enough. The catastrophe would be one of those May sea frets, an innocuous looking little mist full of ice that hangs about all day and eats human bones. The signs just before the duckpond point off to the right, showing the way to the Festival. I'm at the Columbia Hall before either of my poets, and I unload the box of books and magazines I've carried with me into the care of the woman from the amazing Brazen Head bookshop in Burnham Market, whose stall is set up with marvellous and rare early editions of various twentieth century poets – First Edition Heaneys etc., and a little pamphlet of Denise Levertov that I deeply covet but am too mean to spend £20 on.
At the back of the hall are tables piled with home baking, sausage rolls, pizza slices, a hundred and three different types of cakes, including a very bright plate of Battenburg slices. No audience yet, but hey, it's poetry.
The Cley Little Festival is probably the nation's senior poetry event. Everybody has read at it. This very hall was packed and bursting a dozen years ago when professor Germaine Greer spoke: Sir Andrew, when he was Poet Laureate, found himself facing the largest book signing queue outside of Hay-on-Wye when he read to a full house in the Beeston School Sports Hall. I remember reading with Peter Scupham in the Wiveton Village Hall one year, the coal fire glowing at our backs, the portrait of HM QE2 as a much younger monarch smiling down from high over the mantlepiece. A very distinguished older lady in the front row nodded off as we began to read, pronounced the evening 'wholly delightful' at half time and wandered off into the gathering night.
Hannah arrives by taxi from Norwich. She had to redirect the driver who proposed to take her to Salhouse and she has her wrist in a brace after a Yoga accident. Then along comes Jack with his family. And suddenly the hall is respectably full.
The first event, at 10.30., is Closely Shared. After an introduction from Helen Birtwell, the indefatigable presence behind the festival in recent years, Hannah, Jack and I launch into discussions and readings of three poets who have meant much to us. We are surprised to find that we have all chosen American poets – mine is Robert Lowell, Hannah's is Philip Levine, and Jack reads Elizabeth Bishop. Jack and Hannah both teach for a living, or as a part of their living, and I'm very cheered by how good they are (lucky students) very bright, confident and knowledgeable. I'm hoping we are impressing the audience. I'm hoping they like us. We read and speak and answer very informed questions for close to an hour and a half, when I begin to notice that there are more people pressing into the hall – it's time for the next event.
This turns out to be bright genius. I don't know who had the idea – Helen B perhaps, or maybe Phil Barrett who has been helping with the festival this year. The event is called Strictly Reading. Phil asked me weeks ago to suggest a poem and I came up with 'The Lake Isle of Innisfree'. The idea is that members of the audience can take it in turn to read the poem aloud. There's a table at the front of the hall with three judges, Hannah, Phil and I. We have in front of us a pile of papers with the numbers one to ten printed large on them. It's a little bit like the famous BBC Strictly Come Dancing, but far more intimate. The readers come up onto the stage and read, the judges take turns to comment and then we hold up our scores. We all have a wonderful time. Lots of people want to read, including the couple who were camping along the cliffs at Cromer and thought 'that's for us', the family from Derbyshire whose two young children read, first announcing that their house is called Innisfree, various stalwarts of the Cley Poetry Group, etc. What was wonderful was that the poem responded to them: it proved capable of carrying all sorts of voices and differing interpretations. Phrases that I had only half heard, it seemed, in my own readings, were suddenly fresh and new. I had proposed to myself that I'd try for a Craig Revel Horwood role as judge, but I couldn't do it. I was charmed and excited by the performances.
The two starriest stars of the event were one of the senior members of the audience who read in a hauntingly quiet voice that reached to the back of the hall; his reading pulled out all the loneliness in the poem. The other star reading was from a twelve year old in a cowboy hat, with that astonishing confidence that her generation have (you'll have noticed it if you've been following Britain's Got Talent): she announced that she loved literacy and proceeded to proclaim the truth of that statement with a reading that gave us a poem full of energy and passion.
These two were the highest scorers. There was a tense Read Off which the twelve year old won by a narrow margin of two points, carrying off in triumph the £20 prize.
This event was a joy to be a part off. If the Arts Council wants to see poetry alive and well this is the kind of event to support.
Hannah and I went to the pub for lunch. We chose the Fish Pie, which turned out, rather like Winnicott's mothers, to be 'good enough', but we rather wished, when we saw others eating it, that we'd gone for the Gammon and Chips. I then zoomed off to greet the family who were driving down from London for the half term weekend: they were much delayed by traffic particularly through the notorious Elveden area, so I didn't get back to the Festival until just before the Evensong Service in Salthouse church – however Jack and his family joined in the Consequences Cake and a Cuppa event with poetry games, and pronounced them 'great fun'.
A church service has been a traditional part of the Festival – at one point in its history they would take place in the so called 'redundant churches' i.e., churches without congregations, buildings that the late Lady Harrod put years of effort into saving and restoring. Salthouse church, says Pevsner, is mostly late fifteenth century and is sited 'on an eminence broadside to the sea…. somewhat gaunt in its loneliness'. He also remarks on the 'bare impressive tiled interior' but he doesn't seem to have spotted the sailing ships that have been scratch carved into some of the woodwork in the choir.
The service was centred around celebration of the King James' Bible – 400 years old this year. We had several readings from the book by members of the congregation and Cley poetry members, and we sang hymns and psalms in the untutored way that C of E persons do, half following, half racing the organist, and never letting our voices get too loud. And we had a sermon from a Dean. My knowledge of Dean's is mostly derived from Trollope's Barchester novels, though I did once meet a very delightful one in South Norfolk. This one reminded me of those schoolteachers of my youth who would try to unbend but could never really overcome the vast distances between themselves and us. He did talk about the history of the King James' Bible and reminded us of how much it has entered our language, but he was there to give a sermon and he fairly quickly got onto Paul's Letter to the Romans, that celebrated cornerstone of the Christian religion. Have a read of it – essential if you want to understand those Christian fundamentalists.
By this time the poetry audience were trundling in to the back of the church, come for the final event of the festival, billed as Poetry and Pimm's. There was some hesitation about setting up the bar while the Dean was preaching. Soon got over. I was a bit miffed to see the clergy vanishing: I'd come to their gig, but it was pretty obvious they were off out of it before any poets could raise a glass, let alone a voice.
The other thing that Pevsner doesn't mention about Salthouse church is that it can be rather chilly on a late May evening. I'd begun to notice this half way through the service and my anxiety was confirmed when I saw two experienced members of the poetry audience arrive carrying blankets and shawls. However we fortified ourselves with Pimms (free to the poets) both before starting and during the interval, and we read courageously (though Jack was slightly wary of reading in a church, expecting thunderbolts). We're very different poets, but we're all three very convincing, passionate about writing, and rather good. Damn fine show I thought. Meanwhile the rest of the world, including my son-in-law at last arrived in Aylsham, was crammed into pubs watching Barcelona trounce Manchester United.
Michael Mackmin
Hannah Lowe's pamphlet The Hitcher is published by The Rialto
Michael Mackmin's latest pamphlet From There to Here is published by Happenstance
Jack Underwood's pamphlet Faber New Poets 4 is published by Faber and Faber
You can buy all three online.