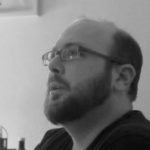 I was moved to write this piece after reading a Robert Penn article in this month's Cycling Plus where he argues that poetic thinking and cycling are incompatible, and quotes Diane Ackerman: "When I go biking… the world is breaking someone else's heart". It's a strong argument beautifully rendered, but I have to disagree. A couple of summers ago I started distance cycling for fitness. Miroslav Holub once wrote that 'poets are the most combustible of writers' and in terms of alcohol intake during my twenties, like the majority of my peers, I was highly flammable. I was carrying my very own stone baby around and it was made from Guinness and Gordon's. I soon found that cycling the network of East Anglian lanes gave me an uninterrupted space for thinking and meditating on emerging poems.
There are mentions of bicycles in poetry: Michael Donaghy's excellent conceit poem 'Machines' where he compares a Purcell harpsichord pavane with a twelve-speed racing bike (in my mind an Italian Bianchi, replete in celeste) is a prime example. However the first thing to pop into my head when I considered this question was the black and white film of Larkin in his three-quarter length raincoat pulling up in a grave yard, right trouser leg held firmly in place by an ankle clip. That film gave a clear impression of the poet on his touring bike, beef sandwiches and a flask of tea packed into a Brooks tan saddle bag, exploring the back-road churches in search of an interesting font or unusual gravestone. This genteel vision has its limits, as anyone who has cycled up a 1:3 hill can testify. The language that comes into play to inspire one to the top is hardly poetic, though equally heartfelt.
As I started to chalk up the miles I started to find a new space for poetry to shuffle into the light. One particular ride, through the strange and unnerving landscape between Saxmundham and Orford in Suffolk, had such a strong effect on me that I found myself recalling the MR James ghost story, 'Oh, Whistle and I'll Come to You, My Lad' and the echoes of those who had lived there before, apparent in the names, Iken, Snape, Orford. The huge aerials of Orford Ness seemed to be bouncing these ideas back across the land, and by cutting through it on a bike, it felt like tuning a radio through various stations. Having a camera to record the landscape helped bring back the essential essence of the ride when I returned home, the snapshot images focussing my mind on the disparate ideas that had arisen from the journey.
Another interesting ride was along Marriott's Way, a disused railway line that loops out of Norwich and connects the market towns of Reepham and Aylsham to Broads town of Wroxham. As we looped around the back of one small town, there was a sense of travelling through time. It was a late summer day and to our left the harvest was being brought in, while to our right the church was tolling a mourning bell. As we crossed over the river a Kingfisher landed on the bridge rail. It was like being in an Edward Thomas poem, a magical sense of something reaching far back, and we were able to experience it as if we had free-wheeled into the poem Adelstrop, taking this line through the edges of other people's lives.
Other times I have found myself belting out an Alasdair Roberts' song, something traditional like Lowlands Away, The Cruel Mother or The False Bride to fields of bemused cows, or repeating a line from a tricky Wallace Stevens poem until it makes sense.  For those of you who write, I can't recommend cycling highly enough for the creative process, and for those who love to ponder a line of poetry, cycling is a good way to ride the line, to hear the intricate music and be able to sing it back to the landscape.
Andrew McDonnell  – March 2011
Andrew McDonnell (b.1977) performs his poems with the multi-instrumental group My Dark Aunt. His work has appeared in various magazines, most recently the Spring edition of Poetry London and he is currently studying towards a PhD at the University of East Anglia. Andrew recently fulfilled a lifelong ambition: the ownership of a Bianchi racing bike. His life has now improved by 93%.