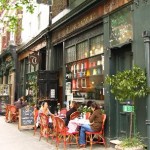 Please come and meet Nathan and Michael at The Troubadour in Old Brompton Road (London SW6 9JA, just up the road from West Brompton tube, or via buses Nos 74, C1 430) on Monday October 4th at 8 p.m. There's a Rialto reading, part of our ongoing 25th Jubilee. The readers will be Fleur Adcock, Christina Dunhill, Joanna Clark, Joanne Limburg, Nathan Hamilton, Amy De'Ath, and Sam Riviere. The reading is in two halves and each poet is reading for 10 minutes only – leaves us all time to get home safely afterwards.
Nathan, Amy and Sam will be representing the Poets Under 35 that Nathan has been showcasing in the magazine – there's a Part One in issue 69 and a Part Two in issue 70, soon to go to be printed. Fleur, Christina, Joanna and Joanne represent the more established Rialto poets. They've all been in recent issues of the magazine – well Sam is in issue 70 – though we published a poem of his sometime before Faber found him.
If you haven't attended one of Anne-Marie Fyfe's Troubadour events before, it's time you did. The readings take place in the cellar, which gives it all a sense of the Sixties, maybe even of the Bohemia of the late Fifties, the time of the first Italian coffee machine invasion, when jazz clubs were not jazz clubs unless they met in cellars, and everyone sat around in black berets and dark polo neck sweaters smoking French cigarettes. Well I did.
If you are travelling from a distance there's food and drink to be had upstairs. Not sure about the prices – I hesitate to recommend it if you are on a lower income, but maybe that's just because all London prices startle me. The event itself costs £7, or £6 for concessions. Look forward to meeting you.
No 70 of the magazine is well advanced, currently at the proof reading stage. I've done what's one of my favourite bits, the re-discovery of poems that I've accepted months ago for the issue. Lovely to re-find Jennifer Martin's 'You Hung the Moon', a couple of cracking poems from Charlotte Gann, Liz Bahs very sexy 'Preserve,' Carole Coates' amazing poems describing the people and customs of that imaginary land Kor, etc., etc.
The issue starts off with another 22 of the Under 35 poets selected by Nathan Hamilton– who is at this moment sweating on his Introduction to this group. Last time he said he'd say 'a few things about what I like about it (the younger poetry, Ed.) and why'. I'm looking forward to reading what he says.
The second section of the magazine kicks of with Robert Wells' coin poem – I wrote about this in the last newsletter/blog – so there's an invigorating plunge into the Classical World after the heady enthusiasms of the U35 crowd. Robert is followed by three poems from Hannah Lowe, a writer new to me, tough urban writing, laced with that thing they used to call wit.
I'm ending my selection with three poets who deserve more fame than they are getting – intelligent and skilful, with the depth and muscle necessary for good work: there's two poems each from Jane Griffiths, Susan Wicks and Peter Scupham.
In between there's a fine medley of love and grief and joy and rage – and quiet moments: Ann favours in particular Matthew Stewart's eight liner 'Formica'.
The Aldeburgh Poetry Festival is the next event on the calendar. Rialto is sponsoring the Masterclass on the Sunday. Among the poet's at the festival that I'm hoping I might meet is Mandy Coe. We published a great poem of hers (I do remember some of the work over the years) in Issue 37 in 1997. Called 'A Small Scratch' it tells the story of the liberation of a Henry Moore sculpture – The Girl – from the Liverpool Tate, and its journey up to Everton Brow to look out over the city. Here's the penultimate section:
A man flicks away a ciggy then wanders over.
He talks about the war and the statues he saw in Rome
"She's lovely," he sighs,
then says he's off for a pint and would we like to come?
"Don't leave her in the van though,
someone will rob her."
We say that's alright as she's already stolen.
And he nods, and says he thought she might have been.
Also in that issue were five short poems by Simon Armitage and four pages of Jon Silkin's long poem 'A Woman from Japan'.
In Norfolk now the crisp harvest is in full swing. Personally I've great anxieties about agri-business – particularly here about the spraying of the fields with sulphuric acid, the desiccant that kills off the haulms and makes harvesting easier. Also when you heft a spud in your hand and then remember the weight of a packet of crisps it can lead you to wonder whether it's potatoes they're growing, or money. Still and all why not make your own crisps?
You will need a few middle sized organic potatoes, a chip pan, fresh sunflower oil. Wash spuds and slice into crisps; I use the wide blade on a standard cheese grater, but you can buy special veg slicers. Put crisps in cold water to soak for a bit – just so some of the starch bleeds out: this will help stop them sticking together in the pan. Drain thoroughly, pat dry with a clean tea towel (or kitchen paper). Heat oil in pan. Deep fry briskly – don't put too many in at once. You'll get the temperature right with a bit of practice. When cooked – i.e looking like crisps – remove from pan, shake off oil, put to drain on tea towel/kitchen paper. Separate them as much as possible. Sprinkle with salt etc., if liked. You'll get to be really good at this if you try it once a week up to Halloween.
Also works well with parsnips and apples. Please note this recipe is for adult poets only; younger poets will need supervision in the kitchen.
Michael Mackmin