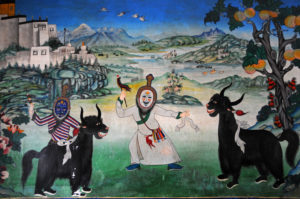 The new The Rialto (No. 69) has gone to be printed. If all goes well (I'm always in full anxiety mode at this stage imagining catastrophes – why not the opposite?) this should prove to be a particularly startling and intriguing issue. It is scheduled to be ready in time for the 'celebration of 25 years of The Rialto' event at the Norfolk and Norwich Festival on May 18th (Playhouse, St George's Street, 7.30). We hope to see you there if you live not too far away. Tickets are £7 from the Festival Box Office 01603 766400, or via their website. Andrew Motion and Les Murray are reading.
Yes, the magazine: it opens with a feature on Younger Poets hosted by Nathan Hamilton – there's work by nineteen poets under 35. Nathan got a huge response from his peers when he advertised that he was preparing this feature, so we've decided to carry it over two issues. I was encouraged by the fact that The Rialto is still seen as a worthwhile destination for poems by younger writers. But maybe I shouldn't listen to gossip, particularly from quarters that might, just might, be seeking to undermine the magazine. Clearly we are not 'just for' older poets and readers. I've never thought to ask poets their ages. Still if you did think that we'd become a monument take a look at this lot, all fine and fit with good strong teeth to bite with. Two of them have actually already appeared in previous issues of the magazine… And Nathan has bravely undertaken to write about what he likes about these new younger poets and why; but that will be in the next issue. Meanwhile see what you think of Penny Boxall, James Byrne, Amy De'Ath, Toby De las Rivas, Joel Duncan, Fatima Hill, Andrew Jamison, Luke Kennard, Chris McCabe, Kei Miller, Camilla Nelson, Richard Parker, Heather Phillipson, David Sergeant, Keston Sutherland, Jonty Tiplady, Emily Toder, Jack Underwood, Joe Walton, and Chrissy Williams.
Letters, as always, will be very welcome, but please when you write don't include the letter with your poems – it's likely to take a long time to work its way to the editorial desk. Or you could email Nathan: I hear someone is already blogging about the 'New Norwich School of Poetry'.
The rest of the magazine has some work by poets invited to participate in this celebration issue, famously Carol Ann Duffy (who was also in issue number 1), Andrew Motion, Les Murray and George Szirtes. Less famous, but still very good, I asked some of the poets whose books we have published to send work, and also John Wakeman one of the co-founders of the magazine. But by far the largest number of the poems in the magazine are chosen from the continuing submissions which turn up on the doorstep – some of these poets are well known, Fleur Adcock, John Mole, Tomaz Salumun for example and some, like Joanna Grigg and Janet Rogerson, are not well known, or at least not known to me. Janet's poem, 26 lines called 'Friends', is a real winner. Oh and if you are nervous around sexual oddity you had best steer clear of Christina Dunhill's 'Fairytale Extract'.
So yes, it's a fantastic issue. Going to sell out fast.
And I'm starting work on No.70.
Michael Mackmin