Originally uploaded by Rialto Poetry Magazine
Michael M has procured a few photos from way back in the mid 1980s, when The Rialto first thrust its shoots through the Norfolk soil. We've posted them on Flickr and used a few of them in the history of the magazine section. If you recognise anyone, or indeed yourself please let us know. It would be interesting to see where those "missing in action" are and what they're up to now – if you have any relevant tales that need to be told please let us know either by posting here or via Flickr.
Most of the photos are either of the launch night at Wells Arts Centre, or are of editorial meetings. All three of the original founding editors feature, as does the original art director.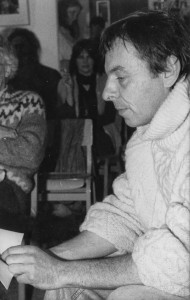 Any information that might help us celebrate our 25th anniversary this year would be gratefully received.
Look out for the new issue which should be ready in May for the event at the Playhouse and will include the "Ones to Watch" feature Nathan is currently working on – it's gone rather, erm, well, apparently…