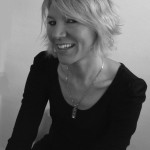 Hannah Lowe was born in Ilford to an English mother and Jamaican-Chinese father. She has lived in Brighton and Santa Cruz, California. She studied American Literature at the University of Sussex and has a Masters degree in Refugee Studies. Currently she lives in Brixton and teaches literature at a college in Islington.
Her Poems have appeared in Ambit, Acumen, Magma, Rising, Smiths Knoll, The Delinquent, The North and of course The Rialto. Hannah's poems have won prizes, commendations or been shortlisted in a number of poetry competitions including Aesthetica Creative Works, The Arvon International, Bridport and SQL.
Her first full collection 'Chick' is published by Bloodaxe.
"Here is a poet with a commanding style; her voice is entirely her own, both rich and laconic. These are poems springing from the page with vitality, rue and insight. Her elegies are restrained and devastating. An extraordinary debut"
Penelope Shuttle, poet
Every now and again there arrives at a poetry magazine a poem that clearly announces a new voice. At The Rialto I think immediately of Peter Sansom's 'The Fox In The Writing Class' or Clare Pollard's 'The Heavy Petting Zoo'. 'Fist' which starts off Hannah's pamphlet is another such work. 'Here' it says 'is someone with something to say, and in brilliant command of the means of saying it.'
Michael Mackmin, poet and editor

You can buy 'The Hitcher' here
Hannah Lowe reads her poem 'Fist' at a Writers Centre Norwich showcase in 2012 here.