With its commitment to placing the best new talent alongside established names, The Rialto is well-placed to talent spot and nurture new talent. The Rialto's First Collection series features poets who are taking the first step from magazine to book publication.
The Rialto has also published collections to mark the early deaths of poets Julia Casterton and Andrew Waterhouse.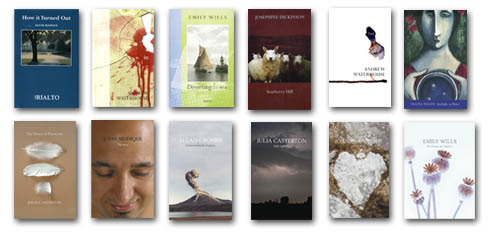 For more information and to buy with your credit or debit card using PayPal, please follow the links below.

The Doves of Finisterre
Julia Casterton
(The Rialto First Collection Series, 2003)
ISBN 0-9527444-6-5
£7.95, out of print
Night Lightning
Julia Casterton
(The Rialto, 2007)
ISBN 978-0-9551273-1-1
72 pages, £8.50
Outswimming the Eruption
Allan Crosbie
(The Rialto First Collection Series, 2006)
ISBN 0-9527444-9-X
74 pages, £8.50
Scarberry Hill
Josephine Dickinson
(The Rialto First Collection Series, 2001)
ISBN 0-9527444-3-0
80 pages, £7.95
Billack's Bones
Joanna Guthrie
(The Rialto First Collection Series, 2007)
ISBN 978-0-9551273-0-4
64 pages, £8.50
Starlight on Water
Helena Nelson
(The Rialto First Collection Series, 2003)
ISBN 09527444-5-7
76 pages, £7.95
How it turned out
Frank Redpath
(The Rialto, 1996)
ISBN 0-9527444-0-6
£6.95
The Prize
John Siddique
(The Rialto First Collection Series, 2005, 2nd edition reprint 2008)
ISBN 0-9527444-8-1
70 pages, £7.95
in
Andrew Waterhouse
(The Rialto First Collection Series, 2000)
ISBN 0-9527444-1-4
68 pages, £7.95
2nd
Andrew Waterhouse
(The Rialto, 2002)
ISBN 0-9527444-4-9
64 pages, £7.95
Diverting the Sea
Emily Wills
(The Rialto First Collection Series, 2000)
ISBN 0-9527444-2-2
84 pages, £7.95
Developing the Negative
Emily Wills
(The Rialto, 2008)
ISBN 978 0955127335
72 pages, £8.50