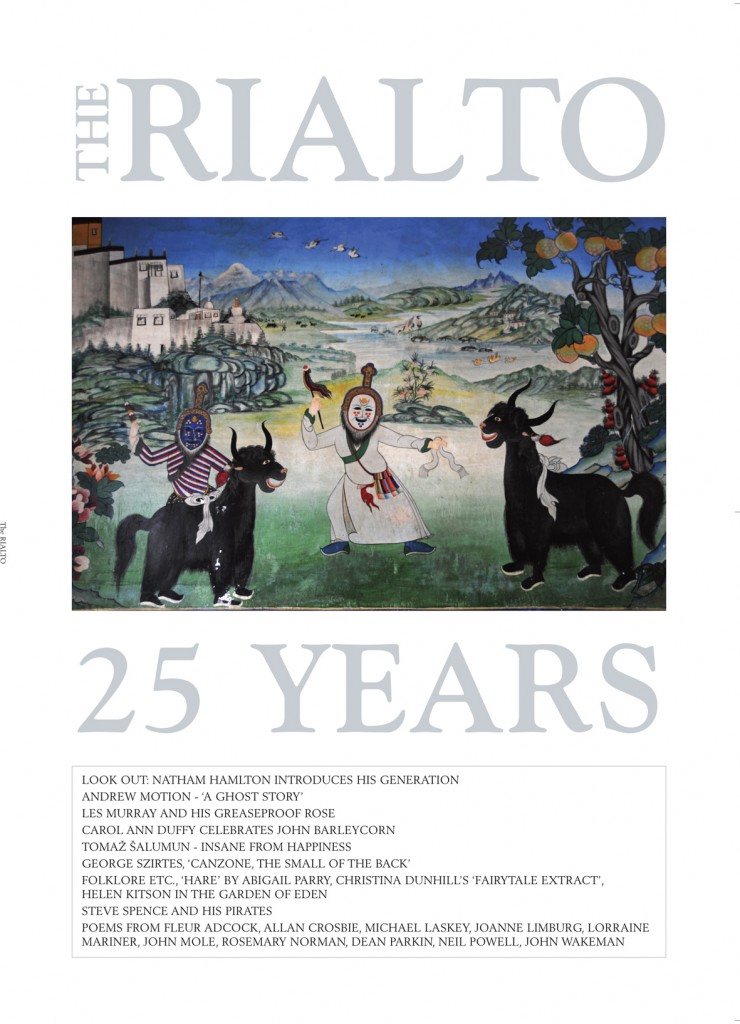 Three issues a year, 150 poems, poetry news & views…
Established in 1984 by Michael Mackmin and John Wakeman, the editors set out to be deliberately eclectic and to promote what John called a 'republic of poetry'. The first issue that autumn had poems in it by Margaret Atwood, George Barker, Gavin Ewart and Miroslav Holub, and four poems by a then not so well known Carol Ann Duffy. The Rialto features international names and established poets alongside emerging talents – it's the poetry magazine to read to find out about what's happening in poetry today.
Each issue features the best new poems, a lively editorial, letters page and news from the poetry world. The cover images are created by some of the best contemporary artists, illustrators and photographers.
In 2000 The Rialto moved into publishing with its First Collection Series, soon to be added to with the Bridge Pamphlets.  Both series are intended to bridge the gap for poets between magazine and book publication.
The Rialto magazine and books are now edited by Michael Mackmin. Visit the Blog for fascinating insights into Editor Michael Mackmin's choice of poems for the magazine, upcoming events and "what news on The Rialto?"
Poetry gives us essential human pleasures and rewards, not least because it allows us to discover richer versions of ourselves. The Rialto, being reliably full of excellent new work, is an excellent place to find these pleasures and rewards.
Andrew Motion
From the start, The Rialto has received invaluable support from Arts Council England.