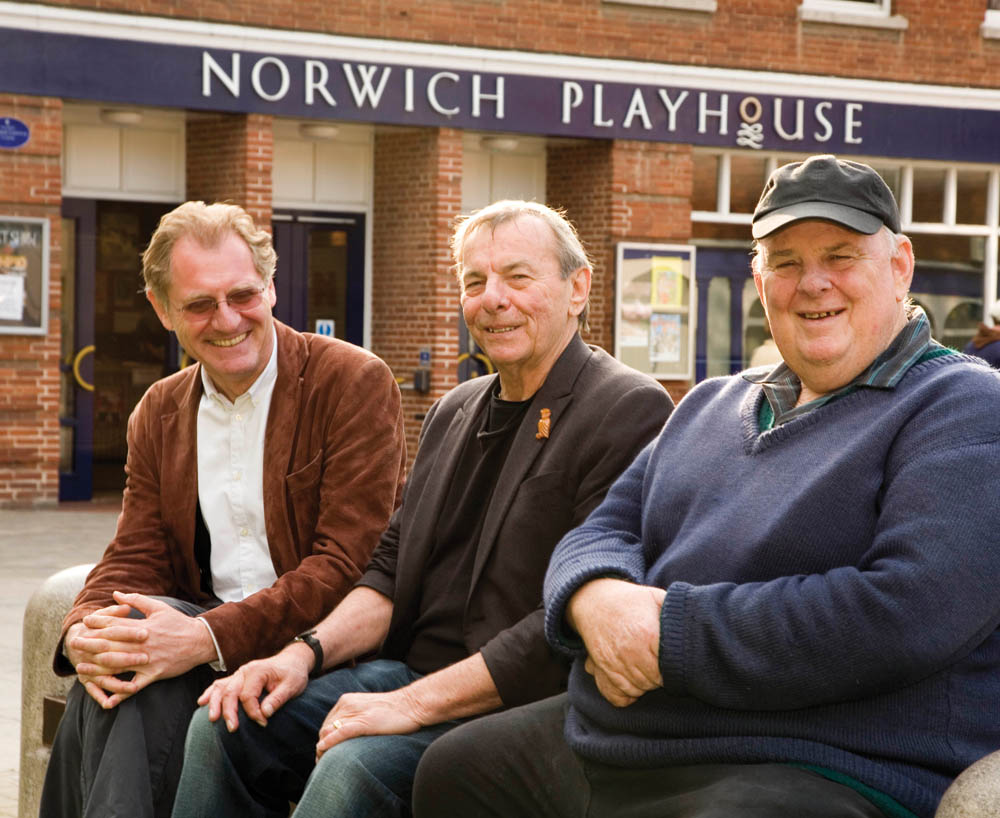 The Rialto has three dedicated permanent staff, conisting of Michael Mackmin, the Editor, who has been at the centre of The Rialto since it started in Jurnet's Bar at Wensum Lodge in 1984, he continues to read the submissions and edit the content for all the books and magazine. When Mike isn't reading submissions or editing the magazine you can usually find him standing in a muddy field near the North-Norfolk coast, bird watching. Michael has two published collections The Play of Rainbow and more recently Twenty-Three Poems, In his spare, spare time he is also a full-time Gestalt Therapist. Seen here with Andrew Motion and Les Murray at the recent 25 years celebration at the Norwich Playhouse, jointly hosted by The Rialto and Writer's Centre Norwich. (Photograph: Martin Figura)
Nick Stone has worked alongside Mike since the late eighties, initially sticking all the bits of magazine together with Cow Gum. Since then he has meandered into the role of art director, responsible for the magazine's design and typography, securing the fine pieces of work that adorn The Rialto's cover, maintains the brand and assists in its evolution and entry into the arena of digital publishing and the weird landscape of Social Media. Nick is a designer and photographer, and can also be found working at Starfish in Norwich. The Rialto is still one of his favourite things.
Helen Mitchell is The Rialto Projects Manager, she also works freelance with arts organisations and museums. She managed the UK's first video art festival in Liverpool; was General Manager of the Norfolk and Norwich Festival and coordinator for the Eastern region's millennium celebrations. Helen helped revive the fortunes of Gressenhall Farm and Workhouse and created www.norfolkheritage.co.uk. Recent clients include British Museum, Coracle Press, Norwich Castle, the village of Happisburgh, SeaChange Arts and SHARE Museums East. Helen has worked with The Rialto since 2007 on strategic planning and development.  She reads, loves the visual arts and artists' books and likes to spend time exploring cities, edgelands and waterways, often sailing on the Norfolk Broads.
In addition to these permanent staff The Rialto has two assistant editors contracted via the Editors Development Programme; Abby Parry and Fiona Moore, they assist in reading and editing the magazine and provide formidable backup for Michael in the reading and selection process. Dean Parkin continues to write the rumours page for the magazine and rumour has it will continue to do so.