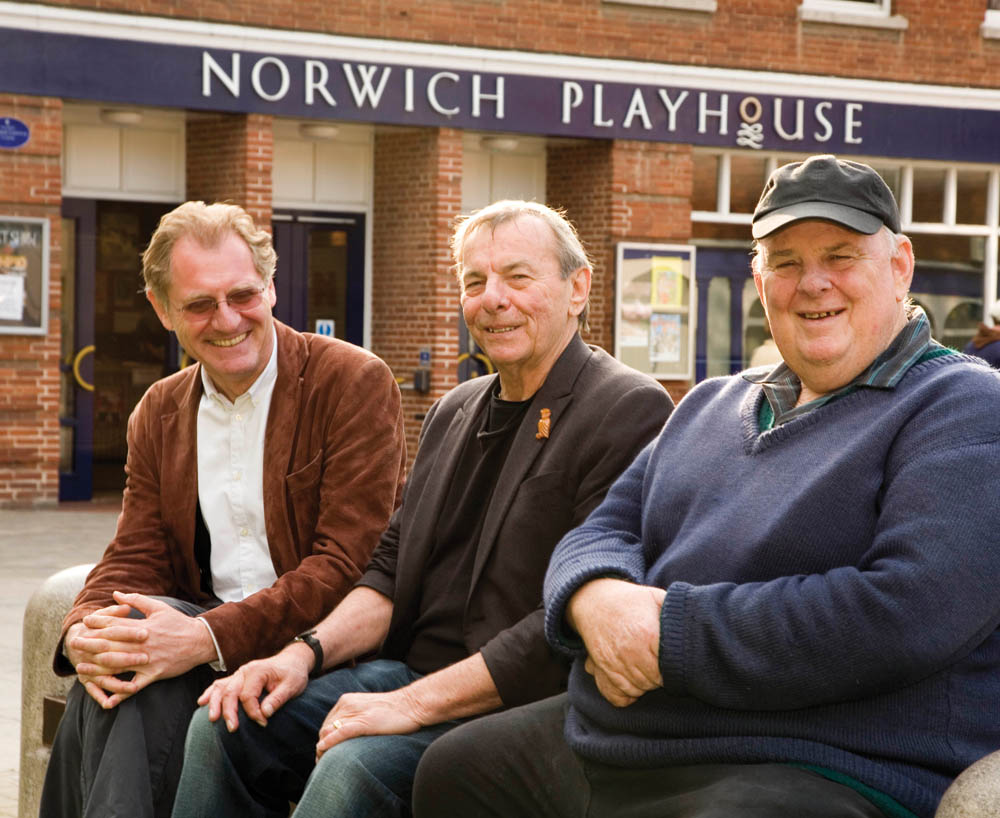 The Rialto has three dedicated permanent staff, conisting of Michael Mackmin, the Editor, who has been at the centre of The Rialto since it started in Jurnet's Bar at Wensum Lodge in 1984, he continues to read the submissions and edit the content for all the books and magazine. When Mike isn't reading submissions or editing the magazine you can usually find him standing in a muddy field near the North-Norfolk coast, bird watching. Michael has two published collections The Play of Rainbow and more recently Twenty-Three Poems, In his spare, spare time he is also a full-time Gestalt Therapist. Seen here with Andrew Motion and Les Murray at the recent 25 years celebration at the Norwich Playhouse, jointly hosted by The Rialto and Writer's Centre Norwich. (Photograph: Martin Figura)
Nick Stone has worked alongside Mike since the late eighties, initially sticking all the bits of magazine together with Cow Gum. Since then he has meandered into the role of art director. He is now responsible for the magazine's design and typography, securing the fine pieces of work that adorn The Rialto's cover, maintains the brand and assists in its evolution and entry into the arena of digital publishing and the weird landscape of Social Media. Nick is a designer and photographer, and can also be found working at Starfish in Norwich. The Rialto is still one of his favourite things.
In addition The Rialto has two assistant editors contracted via the Editors Development Programme; For 2013/2014 Abby Parry and Fiona Moore took part, they assisted in reading and editing the magazine and provide formidable backup for Michael in the reading and selection process, Fiona is now Asistant Editor and Abby assists with reasearch. The EDP for 2014/2015 consists of Holly Hopkins and Rishi Dastidar who stepped right up to the peg and have assisted in marshaling through the last three issues with a cracking magazine out now (Slow Summer 2015).
The Rialto also has an advisory board drawn from long-time supporters who work in the local arts and literary world; Katy Carr, Matthew Howard, Claire Kidman, Henry Layte, Michael Mackmin, Fiona Moore, Mary Muir and Nick Stone all provide advice, ideas and support which help keep the magazine ticking along nicely. Dean Parkin continues to write the rumours page for the magazine and rumour has it will continue to do so.