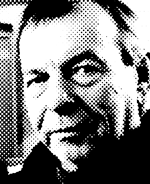 Mike Mackmin has been at the centre of The Rialto since it started in Jurnet's Bar at Wensum Lodge in 1984, he continues to read all the submissions and edit the content for all the books and magazine.
When Mike isn't reading submissions or editing the magazine you can usually find him standing in a muddy field near the North-Norfolk coast, bird watching.
Michael has two published collections The Play of Rainbow and more recently Twenty-Three Poems, In his spare, spare time he is also a full-time Gestalt Therapist.