The Rialto is a poetry magazine that sets its bar perennially high.
The formula is simple but effective: exceptional poetry and lots of it.
The Guardian
Click on the links below to buy with your credit or debit card using PayPal.
Back copies of The Rialto magazine are also available through Inpress Books
Issue 77 – CURRENT ISSUE OUT NOW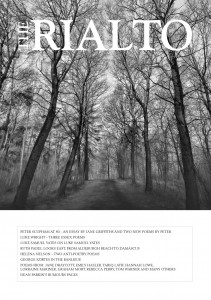 Peter Scupham at 80 – An essay by Jane Griffiths and Two New Poems By Peter
Luke Wright – Three Essex Poems
Luke Samuel Yates on Luke Samuel Yates
Ruth Padel looks east, from Aldeburgh beach to Damascus
Helena Nelson – two anti-poetry Poems
George Szirtes in the Banlieue
Poems from Jane Draycott, Emily Hasler, Tariq Latif, Hannah Lowe,
Lorraine Mariner, Graham Mort, Rebecca Perry, Tom Warner and many Others
Dean Parkin's rumours pages
Cover photo: Battle Wood by Nick Stone
You can order a copy here
Issue 76
The Rialto/RSPB Competition Winning Poems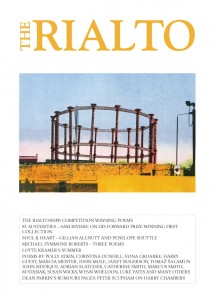 81 Austerities – Sam Riviere on his Forward Prize winning First Collection
Soul & Heart – Gillian Allnutt and Penelope Shuttle
Michael Symmons Roberts – Three Poems
Lotte Kramer's Summer
Poems by Polly Atkin, Christina Dunhill, Vona Groarke, Harry Guest,
Marcia Menter, John Mole, Janet Rogerson, John Siddique, Adrian Slatcher, Catherine Smith, Marcus Smith, M Stasiak, Susan Wicks, Wynn Wheldon, Luke Samuel Yates and many others
Dean Parkin's Rumours pages.
Cover Image: Tiara of Pancras Boulevard by Clare Johnson.
You can order a copy here.
Issue 75
Sasha Dugdale – 'Woman Cutting Apples', 'Richard Woodman'
Matthew Sweeney – 'The Piper's Cave, 'Nil', 'Sausages'
RA McRoy – 'Guppy Primer'
Emily Berry – Two New Poems: Kim Moore – Three New Poems
Alison Winch in Rehab, Judith Kazantzis On The Beach Of Darlings
Janet Rogerson On Becoming A Poet In Less Than Five Years
Ramona Herdman At Home With Dragons: More Golf With Oliver Comins
Dean Parkin's Rumours, Plus Poems From Charlotte Gann, Pete Hoida, Joel Lane, Hannah Lowe, Rennie Parker, Patricia Pogson And Many Others.
Cover by Peter Green.
Issue 73
David Constantine: 'A Local Habitation And A Name', 'A Romanesque Church in The Rouergue', and other new poems.
Sophie Hannah on Therapy – 'The Little Cushion And The Empty Chair'.
Penelope Shuttle on Penelope Shuttle and becoming a poet (plus two new poems).
Luke Yates' 'Impeccable Risotto'.
At least two poems about horses, and a golf poem, ' Breakfast at Turnberry' by Oliver Comins.
Poems by Clare Best, Joanna Clark, Carrie Etter, Sarah Hymas, Maria Jastrzebska, Molly Naylor, etc. Also some poems by men, including Roddy Gorman, John Mole, Jack Underwood, etc.
Fabulous cover by Phil Cooper.
Issue 72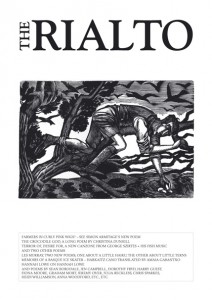 Farmers in Curly Pink Wigs? – Simon Armitage's new poem.
The Crocodile God, an important long poem by Christina Dunhill.
Terror Of, Desire For – a new canzone from George Szirtes plus his Fish Music and two other poems.
Les Murray, two new poems, one about a Little Haiku, and the other about Little Terns.
Memoirs of a Basque Ice Skater – Harkaitz Cano translated by Amaia Gabantxo.
Hannah Lowe on Hannah Lowe
And poems by Sean Borodale, Jen Campbell, Dorothy Fryd, Harry Guest, Fiona Moore, Graham Mort, Jeremy Over, Julia Reckless, Chris Sparkes, Heidi Williamson, Anna Woodford, etc., etc.
Wonderful cover by Eric Ravilious.
Issue 71 -
SOLD OUT
Alan Brownjohn At The End Of The Pier.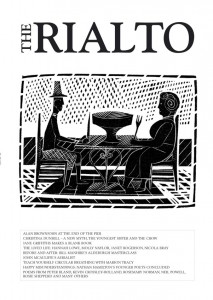 Christina Dunhill – A New Myth, The Youngest Sister And The Crow.
Jane Griffiths makes A Blank Book.
The Lived Life: Hannah Lowe, Molly Naylor, Janet Rogerson, Nicola Bray.
Before And After – Bill Manhire's Aldeburgh Masterclass.
John McAuliffe's Aerialist.
Teach Yourself Circular Breathing with Marion Tracy.
Happy misunderstandings: Nathan Hamilton's Younger Poets concluded.
Poems From Peter Bland, Kevin Crossley-Holland, Rosemary Norman, Neil Powell, Rosie Shepperd And Many Others.
Cover by Jonathan Gibbs.
Celebrating 25 years of The Rialto. Part 2

Nathan Hamilton and Part Two of his Team U35.
Classiest Classicism – Robert Wells' Coin Cabinet.
Mud Flowers – Carole Coates visits Kor City.
Two poems each from three great poets – Jane Griffiths, Peter Scupham, and Susan Wicks.
Charlotte Gann and Hannah Lowe Wrestle with Love and Lovers.
Nathan Curnow – A New Australian Voice.
Jennifer Martin's 'You Hung the Moon'.
Poems from Zeeba Ansari, Alison Brackenbury, Carrie Etter, Helena Nelson, Penelope Shuttle, Catherine Smith, Emily Wills and Many Others.
Fabulous cover by Laura Barnard.
Issue 69 –
SOLD OUT
Celebrating 25 years of The Rialto. Part 1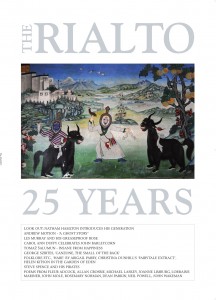 Look Out: Nathan Hamilton introduces His Generation.
Andrew Motion, 'A Ghost Story'.
Les Murray and his Greaseproof Rose.
Carol Ann Duffy celebrates John Barleycorn.
Tomaž Šalumun – Insane From Happiness
George Szirtes, 'Canzone, The Small Of The Back', Folklore Etc.,
'Hare' By Abigail Parry.
Christina Dunhill's 'Fairytale Extract'.
Helen Kitson In The Garden Of Eden.
Steve Spence And His Pirates.
Poems From Fleur Adcock, Allan Crosbie, Michael Laskey, Joanne Limburg, Lorraine Mariner, John Mole, Rosemary Norman, Dean Parkin, Neil Powell, John Wakeman.
Cover photograph by Patrick Sutherland.
Issue 68
Ck Williams – The World Is Torn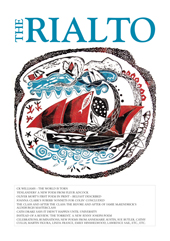 .
'Fenlanders' A New Poem From Fleur Adcock.
Oliver Mort's first poem in print – Belfast Described.
Joanna Clark's suberb 'Sonnets For Colin' concluded.
The Class And After The Class: The Before And After Of Jamie Mckendrick's Aldeburgh Masterclass.
Cath Drake Says It Didn't Happen Until University.
Instead Of A Review, 'The Torrent,' A New Jenny Joseph Poem.
Celebrations, ruminations, new poems From Annemarie Austin, Sue Butler, Cathy Cullis, Martin Figura, Linda France, Emily Hinshelwood, Lawrence Sail, Etc., Etc.
Fantastic cover by Penny Bhadresa.
Issue 67

Three new poems by Simon Armitage.
Four new poems by Alan Brownjohn, about Ludbrooke, a 'rather dubious alter ego'.
Well known names included are Gerard Benson, Martyn Crucefix, David Holbrook, David Morley, and Ruth Silcock.
At the other end of reputation we have Ray Marshall's first poem to appear in print.
The first part of Joanna Clark's sequence Sonnets For Colin.
Two rhymed pieces, refreshing, sardonic, from Helena Nelson and Alan Dixon.
53 poets, 30 are female, 23 male.
Lorraine Mariner writes about herself and Jessica Elton, the central character in her first collection, and Jessica Elton responds.
Rennie Parker looks at the cost of becoming a poet.
Emily Wills remembers U A Fanthorpe.
Cover etching, Blythburgh Marshes by Chrissy Norman.
Click here to buy from Inpress.
Issue 66 –
SOLD OUT

Poems from George Szirtes, more from Les Murray, Judith Kazantzis, Lorraine Mariner, John Mole, Sam Riviere, Rosie Shepperd, Tariq Latif and many others.
Also there's work from a new writer Nadia Al Fazil-Kareem (four poems), and an article by Catherine Smith on how she became a poet.
Two poems by Anna Crowe and her translations (with the originals) of poems by Pedro Serrano, who lives in Mexico, and Catalan poet Joan Maragrit.
Several readers wrote in to say how much they love the cover by Paul Jackson.
Subscribe here.
Issue 65

Peter Scupham's 'Figures In A Landscape: 1944' this is a major poem about childhood during the Second World War – any child, any war for that matter- by a major poet. Pascal Petit's poem about the Siberian Ice Maiden.
Six poems from Gillian Allnutt.
Poems from Penelope Shuttle, Les Murray, Colette Bryce, John Siddique.
Steve Spence's mysterious and oddly topical poems about pirates.
And many other poets and poems. Marianne Burton's article on Being Mentored has attracted a lot of interest too.
Cover photograph by Richard Heeps.
Click here to buy from Inpress.
Issue 64-
SOLD OUT

Jane Draycott translates Pearl.
Alexis Orgera reveals the truth about pets.
Joel Lane updates The Emperor
Stuart McCarthy, never before in print, is now.
Lighthouses, islands, coracles, buttercups, termites, tents and body parts. New poems from Zeeba Ansari, Annemarie Austin, Sebastian Barker, Danielle Hope, Judith Lal, Adham Smart and many others.
Cover, 'First Snows of Winter' by Mark Hearld.
Subscribe here.
Issue 63
Dean Young has sex with strangers, Anthony Coleman, F15′s on strike mission. From China to Peru, poets and exile. Emily Berry and Sue Boyle — rich new voices. Formal dinner with Ana Pascal. New poems from Josephine Dickinson, Jane Draycott, Jo Haslam, Les Murray, Frank Newsum et. al.
Cover photograph, 'Naked' by Steve Denby.
Click here to buy from Inpress.
Issue 62
Peter Scupham celebrates W.H. Auden, Penelope Shuttle on The Silence of Tony Blair. Fleur Adcock on Fleur Adcock, six last poems by Julia Casterton, Sarah Cuddon's Siege. Sarah Corbett's Dreaming History and poems by Anna Adams, Tom Duddy, Sheree Mack, Les Murray, Jack Underwood and many others.
Cover image by Paula Rego.
Click here to buy from Inpress.
Issue 61
New long poem by David Constantine, major Catalan poet Joan Margarit in conversation with his translator, Scottish poet Anna Crowe, and the winners of the Young Poets Competition. New poems by Mandy Coe, Joanna Guthrie, Tajinder Singh Hayer, Helena Nelson, Rosemary Norman, Carole Satyamurti and Susan Wicks.
Click here to buy from Inpress.
Issue 60
Six new poems by award-winning Gillian Allnutt, a major new piece by TS Eliot prize-winner George Szirtes plus the amazing Lorraine Mariner's Thursday. Poems by David Constantine, Tobias Hill, Herbert Lomas, Patricia Pogson, Penelope Shuttle and Catherine Smith. Gillian Allnutt and Peter Sansom in 'Poets by Themselves'.
Click here to buy from Inpress.
Issue 59
Three new poems by Australia's leading poet, Les Murray, and two from Jenny Joseph (author of 'When I'm old I'll wear purple'), who also talks about her forthcoming book in the popular 'Poets by Themselves' series. Plus established names like Peter Sansom, John Sewell, Lawrence Sail and New Generation poet Catherine Smith alongside new translations of Rilke and Octavio Paz.
Click here to buy from Inpress.