Welcome to The Rialto shop. Sales are made through PayPal – a quick and secure service. Simply click on the links to buy.
NB. we still also accept cheques and postal orders. Please send to:
The Rialto – Sales, PO Box 309, Aylsham, Norwich NR11 6LN, England
Issue 77 is out now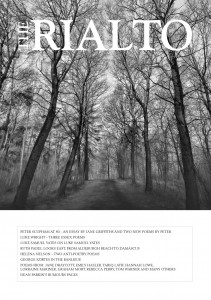 Peter Scupham at 80 – An essay by Jane Griffiths and Two New Poems By Peter
Luke Wright – Three Essex Poems
Luke Samuel Yates on Luke Samuel Yates
Ruth Padel looks east, from Aldeburgh beach to Damascus
Helena Nelson – two anti-poetry Poems
George Szirtes in the Banlieue
Poems from Jane Draycott, Emily Hasler, Tariq Latif, Hannah Lowe,
Lorraine Mariner, Graham Mort, Rebecca Perry, Tom Warner and many Others
Dean Parkin's rumours pages
Cover photo: Battle Wood by Nick Stone
BUY A COPY HERE
Issue 76
The Rialto/RSPB Competition Winning Poems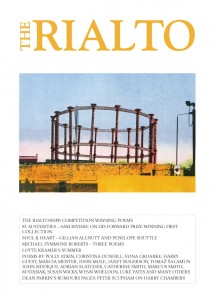 81 Austerities – Sam Riviere on his Forward Prize winning First Collection
Soul & Heart – Gillian Allnutt and Penelope Shuttle
Michael Symmons Roberts – Three Poems
Lotte Kramer's Summer
Poems by Polly Atkin, Christina Dunhill, Vona Groarke, Harry Guest,
Marcia Menter, John Mole, Janet Rogerson, John Siddique, Adrian Slatcher, Catherine Smith, Marcus Smith, M Stasiak, Susan Wicks, Wynn Wheldon, Luke Yates and many others
Dean Parkin's Rumours pages.
Cover Image: Tiara of Pancras Boulevard by Clare Johnson.
You can order is here.
Issue 75 still copies available
Sasha Dugdale – 'Woman Cutting Apples', 'Richard Woodman'
Matthew Sweeney – 'The Piper's Cave, 'Nil', 'Sausages'
RA McRoy – 'Guppy Primer'
Emily Berry – Two New Poems: Kim Moore – Three New Poems
Alison Winch in Rehab, Judith Kazantzis On The Beach Of Darlings
Janet Rogerson On Becoming A Poet In Less Than Five Years
Ramona Herdman At Home With Dragons: More Golf With Oliver Comins
Dean Parkin's Rumours, Plus Poems From Charlotte Gann, Pete Hoida, Joel Lane, Hannah Lowe, Rennie Parker, Patricia Pogson And Many Others.
Cover by Peter Green.
Issue 74
New poems by Fleur Adcock and Les Murray.
Emily Berry typewrites her way into poetry.
Passion in the kitchen – poems from Catherine Benson and Jen Campbell.
Three new poems by Hannah Lowe.
Poetry in process – the revised Aldeburgh Masterclass poems.
Helena Nelson's 'Rant'.
Poems from Josh Ekroy, Ric Hool, Helen Mort, Mike di Placido, David Tait, Victor Tapner, Lizzi Thistlethwayte, Chrissy Williams, Emily Wills and many others.
Cover by Amanda Colville.

Issue 73
David Constantine: 'A Local Habitation And A Name', 'A Romanesque Church in The Rouergue', and other new poems.
Sophie Hannah on Therapy – 'The Little Cushion And The Empty Chair'.
Penelope Shuttle on Penelope Shuttle and becoming a poet (plus two new poems).
Luke Yates' 'Impeccable Risotto'.
At least two poems about horses, and a golf poem, ' Breakfast at Turnberry' by Oliver Comins.
Poems by Clare Best, Joanna Clark, Carrie Etter, Sarah Hymas, Maria Jastrzebska, Molly Naylor, etc. Also some poems by men, including Roddy Gorman, John Mole, Jack Underwood, etc.
Fabulous cover by Phil Cooper.
________________________________________________
Issue 72
Farmers in Curly Pink Wigs? – Simon Armitage's new poem.
The Crocodile God, an important long poem by Christina Dunhill.
Terror Of, Desire For – a new canzone from George Szirtes plus his Fish Music and two other poems.
Les Murray, two new poems, one about a Little Haiku, and the other about Little Terns.
Memoirs of a Basque Ice Skater – Harkaitz Cano translated by Amaia Gabantxo.
Hannah Lowe on Hannah Lowe
And poems by Sean Borodale, Jen Campbell, Dorothy Fryd, Harry Guest, Fiona Moore, Graham Mort, Jeremy Over, Julia Reckless, Chris Sparkes, Heidi Williamson, Anna Woodford, etc., etc.
Wonderful cover by Eric Ravilious.
The Hitcher, Hannah Lowe
(The Rialto Bridge Pamphlet 2011)
ISBN 978-0-9551273-5-9 Price £5.50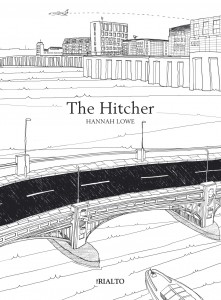 Hannah Lowe's poems are hugely enjoyable, full of life as it is really lived, and manage to be completely unpredictable and yet at the same time utterly inevitable. She is an immensely talented writer, and this is an outstanding first collection. – Peter Sansom
Hannah Lowe is a wonderfully evocative and lyrical writer. She handles form with an easy confidence but she is also a refreshingly able storyteller.
With the publication of this pamphlet, Lowe will surely be recognised as one of the most exciting new voices in British poetry. – John Glenday
Every now and again there arrives at a poetry magazine a poem that clearly announces a new voice. At The Rialto I think immediately of Peter Sansom's 'The Fox In The Writing Class' or Clare Pollard's 'The Heavy Petting Zoo'. 'Fist' which starts off Hannah's pamphlet is another such work. 'Here' it says 'is someone with something to say, and in brilliant command of the means of saying it.' – Michael Mackmin
________________________________________________
Issue 71.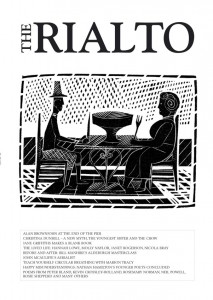 Alan Brownjohn – At The End Of The Pier
Christina Dunhill – a new myth, The Youngest Sister And The Crow
Jane Griffiths – Makes A Blank Book
The Lived Life – Hannah Lowe, Molly Naylor, Janet Rogerson, Nicola Bray
Before And After – Bill Manhire's Aldeburgh Masterclass
John McAuliffe's Aerialist
Teach Yourself Circular Breathing With Marion Tracy
Happy Misunderstandings: Nathan Hamilton's younger poets concluded
Poems from Peter Bland, Kevin Crossley-Holland, Rosemary Norman, Neil Powell, Rosie Shepperd and many others.
Cover by Jonathan Gibbs.
______________________________________________________
Issue 70 – Celebrating 25 years of The Rialto Part 2

Nathan Hamilton and Part Two of his Team U35
Classiest Classicism – Robert Wells' Coin Cabinet
Mud Flowers – Carole Coates visits Kor City
Two poems each from three great poets, Jane Griffiths, Peter Scupham & Susan Wicks
Charlotte Gann and Hannah Lowe wrestle with love and lovers
Nathan Curnow – a new Australian voice
Jennifer Martin's 'You Hung the Moon'
Poems from Zeeba Ansari, Alison Brackenbury, Carrie Etter, Helena Nelson, Penelope Shuttle, Catherine Smith, Emily Wills and Many Others.
Fabulous cover art by Laura Barnard.
______________________________________________________
The Rialto, UK Subscription
______________________________________________________
The Rialto, Overseas Subscription
______________________________________________________