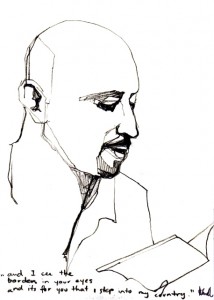 John Siddique is the bestselling author of Full Blood, Recital – An Almanac, Poems From A Northern Soul, and The Prize. He is the co-author of the story/memoir Four Fathers.
He has contributed poems, stories, essays and articles to many publications, including Granta, The Guardian, Poetry Review, and The Rialto.
His The Rialto First Collection 'The Prize', published to wide acclaim in 2005, was nominated for the Forward Prize. His children's book Don't Wear It On Your Head was shortlisted for the CLPE Poetry Award in 2007.
Full Blood is described as 'Bold as love… Each word is to be savoured like a sip of forbidden wine' by Bina Shah, while Recital has been called 'One of the most important British poetry books of the last twenty years' by Lauri Ramey of CSULA. Jackie Kay speaks of Siddique's writing as being 'A brilliant balancing act.
Siddique is well known for his captivating readings and his infectious love of literature. He teaches poetry and creative writing in the UK and Abroad. He is  The former British Council Writer-in-Residence at California State University, Los Angeles.
The Rialto's First Collection 'The Prize' by John Siddique is available here
"John Siddique's writing is playful and poignant. It explores the complexities of a fragmented world – of sex, family, loss and dream-life – with such clear-eyed, unsentimental candour that I go back to certain poems time and again for another immersion. He's not afraid of writing about love, its pain and rewards, its sudden, shocking forces and darkly funny epiphanies – and his poems demonstrate a generosity and humanity so often lacking in more brittle, defensive writers. "
Catherine Smith, poet, writer, teacher
"John Siddique's poetry takes the reader on a journey, crossing the border country between love and loss. Interested in exploring opposite worlds and seeming contradictions, his poetry is a brilliant balancing act."
Jackie Kay, poet, writer and librettist
"John Siddique's writing brims with verve, depth and pathos."
The Big Issue
"The poems in Recital form a literary chronograph for survival, echoing life's ticking clock while inviting us to stop and observe the moments before they pass. In this irreplaceable collection, he creates a time-line for evaporating memories, observations and sensations, and reveals life's potential to be a hidden gallery."
Professor L. Ramey, Center for Contemporary Poetry & Poetics California State University, Los Angeles