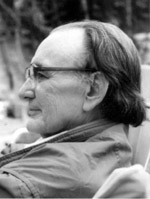 Frank Redpath (1927 – 1990) was born in Hull: he lived for some years in London, where he worked as a writer for children's comics, but returned to Hull, where he taught at the College of Further Education.
Frank and John Wakeman (co-founder of The Rialto) were friends, they'd met in London in younger days, and there's a lovely poem in the book, 'New Year Visit' dedicated to John and his wife Hilary.
Frank was putting together a collection of poems, a follow-up to his first collection To The Village (Sonus, 1986) when he died. John took over as editor and How It Turned Out was published, with help from the Esmee Fairbairn Charitable Trust and the, then, Eastern Arts Board, in 1996.
The Rialto's 'How it Turned Out' by Frank Redpath is available here