The Rialto Bridge Pamphlets are designed to cross the gap between magazine and book publication for new writers or, for established writers, that between collections.
So far we have published six; by Jen Campbell, Richard Lambert, Hannah Lowe, Lorraine Mariner, Janet Rogerson and Peter Sansom.
For more information and to buy with your credit or debit card using PayPal, please follow the links below.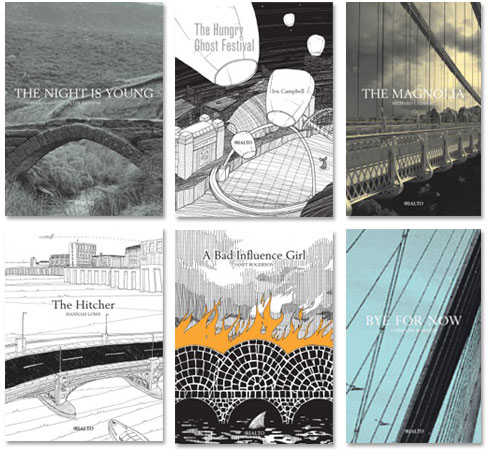 The Hungry Ghost Festival
Jen Campbell
(The Rialto Bridge Pamphlet, 2012)
ISBN 978-0-9551273-9 7
32 pages, £5.50
The Magnolia
Richard Lambert
(The Rialto Bridge Pamphlet, 2008)
ISBN 978-09551273-2-8
40 pages, £5.50
The Hitcher
Hannah Lowe
(The Rialto Bridge Pamphlet, 2011)
ISBN 978-0-9551273-5-9
32 pages, £5.50

Bye for Now
Lorraine Mariner
(The Rialto Bridge Pamphlet, 2005)
ISBN 0-9527444-7-3
40 pages, £5.50
A Bad Influence Girl
Janet Rogerson
(The Rialto Bridge Pamphlet, 2012)
ISBN 978-0-9551273-6-6
36pages, £5.50
The Night is Young
Peter Sansom
(The Rialto Bridge Pamphlet, 2010)
ISBN 978-0-955127-34-2
32 pages, £5.50